We announce the dates of our upcoming courses on a Facebook page and
for further updates. - Facial Aesthetic, Dental Implant Courses
Who We Are
Implant
Systems
We Provide Training On Best Implant System Brands.
Competitive
Advantage
How We Are Differents Form Others.
Professional Experts

We are team of dedicated professional experts( 18+ years of experience) who have achieved the highest level of training in their respective fields to deliver one to one & customized training.

Hands on Training

We provide best hands on training on real dental patients,so that a supervised clinical activity is done to improve clinical skills of budding dentists and enhance their ability to critically appraise their own performance.

Digital Scanner

We train our dentists on advanced instruments like TRIOS 3Shape Digital Scanner (3D Scanner) which provides dentists to digitize dentistry and improve patients experience.

Advanced Technology

The Advanced Dental Technology (ADT) and Research Program provides an advanced level of education and training to the budding dentists.

Post Graduation Level of Course

We provide certified dental training which is equivalent to postgraduate level of education, which primarily focuses on practical training.
(Course Director)
BDS, MDS Consultant
Endodontics and Esthetic
Dental Specialist.
(Course Director)
BDS, MDS Consultant
Oral and Maxillofacial
Prosthodontics and Implantolgist.
BDS , MDS , Ex-Principal, HOD & Professor, F.A.D.I., WHO Fellowship (USA, Switzerland) Consultant Prosthodontist & Implantologist.
Doctors who have completed their degree ( & have registered themselves with dental council)and have done an internship will be an added advantage, can do a course with us. Special facial aesthetic courses offered by us could be done by doctors. ( BDS OR MDS OR MBBS,MD/MS OR DERMATS) only.
These courses are not for nurses, ayurvedic or homeopathy or physiotherapist or any diploma degree holders nor for the students who have just finished their 12th class and willing to become DOCTORS or MBBS or BDS)
This course is suitable for those doctors / dentists who has finished his /her degree & does not have the confidence to open up a PRIVATE PRACTICE. In this course you will have a complete insight and knowledge about how to talk and deal with the patients, how to open a private practice, how to maintain records, and how to talk about the most important part FINANCES with the patients and take your existing private practice to a next level.
We also provide you with complete practical knowledge and clinical steps with no filters which will teach you everything in detail so that your learning is much faster and in better way, so that you won't face any difficulties during beginning of your career.
We have an experience of 20 years in this field and believe that one should start with a great standard of learning. As it is said that from where you start learning is where you start growing in your life.
Dr Bhutani Dental and Facial Aesthetic courses is designed by THE SENIOR DOCTORS SPECIALIST CLINITION'S, their teachings, clinical tips and secrets is imbibed in the courses offered by us. A lot of  patients exposure is provided under the supervision of senior specialist professors, who are there by your side in the learning process and will help you to gain knowledge and confidence to open up your private clinic.
These courses are designed in way that those who have done post graduation or those who haven't can both do this course, with the help of latest armamentarium, knowledge and exact precision.They gain confidence to open up their own clinic.
We are constantly upgrading our infrastructure and knowledge to keep pace with the latest INTERNATIONAL trends around the world and incorporating them in our course curriculum. we have pg doctors from abroad( USA, London, Australia and Europe)as students/learners who come to us to learn good quality work.
SELECTION CRITERIA (we take only):
• DENTAL COURSES :  only two  doctors/learners per batch per month. where minimum 3 senior PRINCIPLE / HOD level mentors are there to conduct the course and will guide you through the course..
•  IMPLANTS: Only  FIVE doctors/learners per batch for 3 MODULE HANDS-ON in implants It is a weekend course with 5 Senior DR/ MENTORS from India, we also have internationally renowned trainers in IMPLANTS.
• FACIAL ESTHETIC: only EIGHT doctors/learners per batch for weekend course with 5 Senior Facial Aesthetic DR /MENTORS from India, we also have internationally Certified trainers in facial aesthetic.
An excellent student teacher ratio is maintained so that learners can learn each and everything without any hesitation and clear their doubts. We have more emphasis on practical knowledge and engagement with the patients. We make sure that you learn early and start your own clinic soon.
To get answers to all your dental courses related query contact Dr. Bhutani Dental Clinic.
Click here
to read more.
Courses Overview By Senior Mentors
Facial Aesthetic Training in New Delhi
Whenever you look at a dentist and thought what kind of training they should possess, or while considering a career in dentistry, have you ever thought which type of training you need for this career, then this might fascinate you.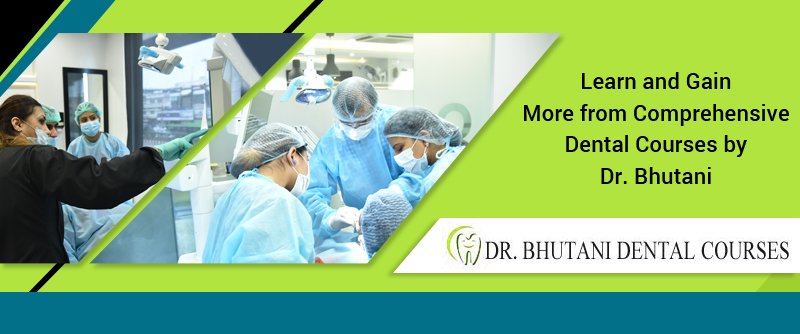 We at Dr. Bhutani's Dental Course offer comprehensive dental courses to extend dental clinical practice and advanced technology based knowledge of dentistry. We provide several dental courses to develop the quality of the dentists.